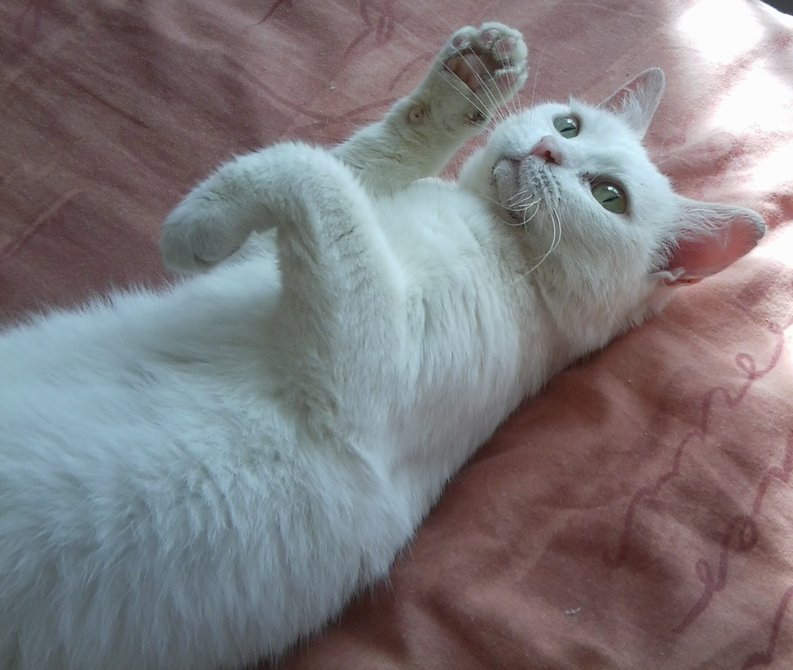 Alice came to me the 9th of September 2012. She is a wonderful, loving, clean cat. I love her dearly.
She cries for cuddles (won't stop until you cuddle her) and food, of course, and to go out to the loo and to come back in. She loves sleeping on my bed and has her own blanket. When I was ill, she made a point of giving me more cuddles. She loves going outside and daily chases the squirrels up the trees and around the woods. She also sees off other cats who dare to look or come into the garden!
I think we both needed each other as we suit each other well. The only drawback is her white hair which is everywhere, but I am getting used to that and it vacuums up easily enough. She also goes out in the rain, hides under the neighbours' cars, whereupon she comes back with black oil sploshes all over her lovely white coat. When this happens I call her Alice splosh cat!
My granddaughter loves her and Alice cries for her when she goes home. They have a true friendship and bond.
Alice has changed my life for the better and even friends who hated cats love her dearly.