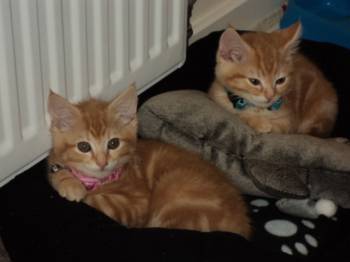 Just a few pictures of Ruby and Rusty for you to see how much they are growing!
I struggle to get any pictures as they have so much energy and are running around the house a lot!
They have settled in really well and have made themselves at home here!
They were really good at the vets for both their injections. Ruby is slightly taller than Rusty and much more adventurous!
They have both been great with the litter tray so we are very thankful you trained them so well!!
They are both lovely kittens with such good temperaments and such bubbly characters.
If I get any more pictures I will forward them on to you.
Thank you so much.