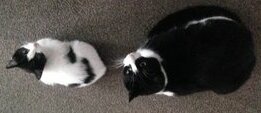 Just wanted to let you know how Daisy (was Monica) is getting on.
We've had Daisy 2 months now and it's like she has always been here. She settled in immediately and made friends with our other cat Archie within seconds. They are best friends, who love a daily game of chase.
We were apprehensive about getting a second cat and worried how they would get along but it couldn't have been any better. Archie doesn't even want to go outside now that he has Daisy to play with.
Thank you for allowing us to re-home Daisy.