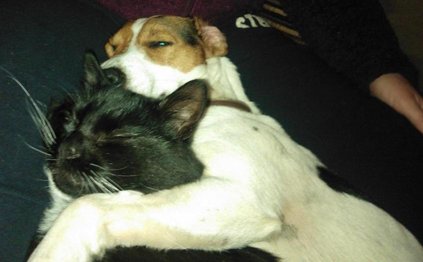 I thought as a few months have passed now, you might like to know how Wesley is getting on with us. He is now known as Buzz because for the first two weeks I had him he spent all night nosing round the house.
After the first couple of days he really came out of his shell and, although my existing cat doesn't exactly love him, they will share my bed together – till Buzz discovered he could sleep downstairs with the dogs anyway!
Buzz is very much in charge of the dogs and lines up with them each night to take it in turns for their bedtime treat of ham; he waits his turn and certainly likes his food! As you can see from the photo, Buzz is particular friends with Biggles the dog and spends ages standing so Biggles can lick his ears.