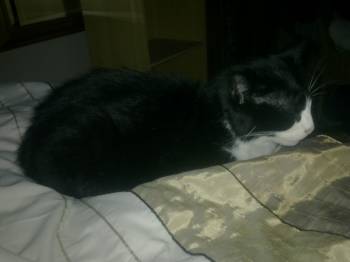 My name is Winnie, and I moved to my new home on what was actually my 12th birthday. I was soon introduced to my older sister Amy, who was a rescue cat many years ago.
Although there were a few teething problems – I didn't like being taken upstairs to the room I had to sleep in for the first week – I have settled in really well.
Me and Amy have a little tag team going to get food and biscuits, and we even have a little kiss every now and then, although we do very occasionally have a swipe at each other, but it's all harmless fun.
I don't like to sit on the people's laps that often, but I do sometimes, and although they sometimes fuss me too much, I do love it when they pick me up and give me a cuddle.
I'm so happy in my new home, and I'm planning on seeing out my days here!