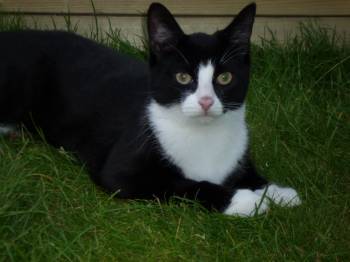 Thought I'd send these before I forgot. As you can see Beau has settled in very well, he's a very loving little man and some of the capers he gets up to around the house has us in stitches.
The one that made Erin giggle the most is when he decided to chase his tail whilst standing on the radiator and falling off in the process, he did this 3 times before he decided it wasn't a good idea!
He gets on fantastically with his catflap in and out all day, but he stays in at night where it's nice and warm. As I'm writing this he's asleep at the top of the stairs next to the radiator.
He loves climbing trees and chasing leaves around the garden and when he's on a mission he's ears go up, his nose twitches and he's off. We love him to bits and can't imagine our home without him.
Thank you, from us all.