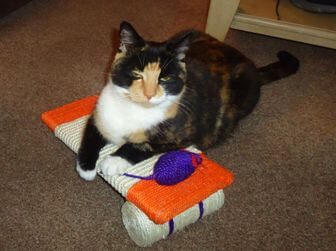 Lillie-lou (Tammy) has settled in and had her microchip. She didn't enjoy that, bless her! She's now going out and loves coming in and out of windows.
She tends to go in my next door neighbour's house and sits on their laps which they don't mind one bit; they love her. She is certainly queen of the road, she has had three different male cats hanging around but she's told them whose boss except for one – Marvin – she seems quite smitten with him!
I'm so glad I found her, she's adorable and a pleasure to have around. A big thank you to your website.