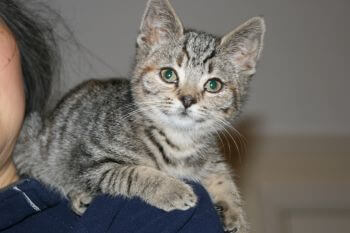 Just to let you know that Maya (female Silver Tabby x Ginger Tom cross from Pembrokeshire) is doing very well. She weighs a little more than 800g now and we will be taking her into the vet to start her inoculations soon.
She has settled well in to the house and its hard to remember life without her now! Attached is a picture taken over the weekend. She likes to sit on our shoulders and survey the goings on, when she isn't tearing around the house playing 'ambush' or 'hide-and-seek' with the children!
It has been difficult to get photos of her as she's so inquisitive that she moves about to investigate the camera and it's almost impossible to get the camera to auto-focus!