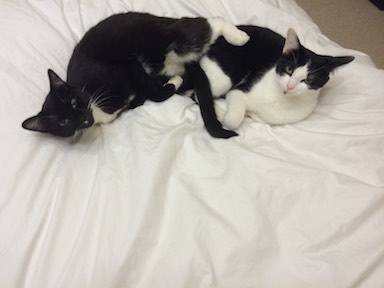 I just wanted to email you with an update of how Lady and Portia have settled in, now that we are nearly 7 weeks in.
They have settled into family life beautifully. They love nothing better than snuggling up on a duvet (the picture that I have attached is of them this morning, curled up together enjoying each other's company on my bed! They have since fallen asleep in exactly the same configuration). They enjoy playtime with the girls and being fussed, but they say 'no, thank you' to cuddles!!
Lady is really fond of Emma and waits for her on the stairs when she is due home from school. They tolerate the puppy (who we have had for 2 weeks) – they take the odd swipe at him when they think that he is getting too sure of himself; no harm done to him, thank goodness, and it is very comical to watch! They are lovely cats who have added to family life.
Thanks for letting us adopt them!