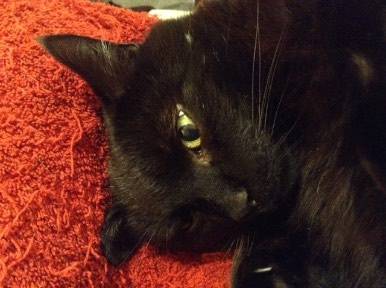 It has now been two years since Pele adopted us, and we love him so much. He wanted us to tell you that even though he is about 18 he is so handsome that he has been painted. A friend of ours came for lunch, took one look at him and asked if she could paint him. He graciously agreed, and we now have his portrait hanging in pride of place in our sitting room.
He wants to make it quite plain that we did not commission this work of art, it was done because she fell in love with him, and it was a gift. She did have some cards made as well. I hope you like the photo of the painting I have attached. I am happy to say this attention did not go to his head and he is as gorgeous and affectionate as ever.
He is perhaps a little portly and has to watch his weight, which does not please him and he is extremely good at looking piteous. He goes to the equivalent of Weight Watchers (free) at the vets as we want him to live for ever.
Do please if you are reading this, and thinking of adopting a cat , consider an older cat. They will give you so much love and happiness.
Kind regards.