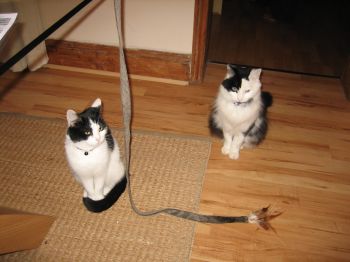 Just thought I'd send you a quick update on Tiny & Crewe who we picked up from Donna on Sunday……
Both cats are doing well and seem to have settled into life in Swindon. When we got home from Bristol Tiny was very confident and was straight out of her box as quick as a flash and was investigating her new home, Crewe was much more timid and took a couple of hours before he ventured out of the travel box and into the kitchen.
After the first couple of hours Tiny became more timid and both cats were very shy for the first couple of days, but that said they were still both eating and drinking lots so we weren't too worried.
Since then they have gone from strength to strength and are getting more confident each day, Crewe is enjoying lots of cuddles and Tiny has been helping warm our laps on a daily basis!! I've attached a few pictures for you, which I hope you enjoy.
We are registered with a local vet now and the cats are off for their second vaccinations next week.
Thanks so much for responding to my emails re cats, I have contacted a number of other rescue centres but found your website and your contacts the best!