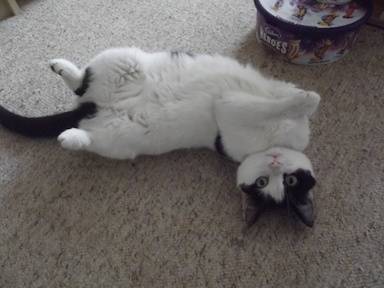 Minnie settled in within hours of being here. She was a bit feral at first (biting every bit of bare flesh she could find), she has mellowed and now only nips our legs from time to time. The Feliway plug-in helped a lot.
Guliver, the cat next door, fell in love with her, she now joins him for breakfast at 6am each morning. According to my neighbour they have a loud conversation before eating all the biscuits. Think I'll rent her out as an alarm clock.
Minnie loves to roll over on her back and have her tummy tickled, talking to me constantly. She also lets me know when she's running low on food. After eating she curls up on the back of the sofa for a long snooze.
I wouldn't be able to part with my little Min now.
Thank you so much for letting me have her. Here's to many more happy years with her.