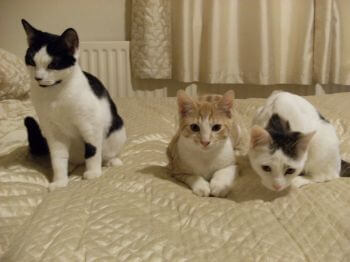 Tommy (ginger one) sits looking out the patio window over the balcony where he can see all of the ground. He makes that chattering noise every time he sees a bird and you can see him thinking to himself, one day this territory will all be mine.
Princess ( black and white one) Named by my daughter, but actually she is well named as she goes around as if she is a princess. Can be shy, but always very proud.
Tabatha (white and tabby one) She's very bold and keeps tormenting the dog, (sometimes the other 2 join her in the game). She likes to be with you most of the time and lies down as close to you as possible.