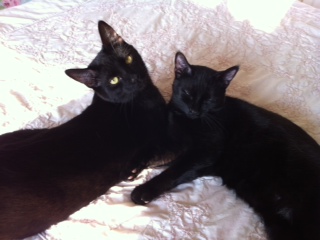 I just wanted to let you know how Rudy (now Jasper) and Riley (now Bertie) are getting on in their new home!
After spending their first few days behind the television unit, Jasper and Bertie plucked up the courage to explore their new home! Over the last few months, they have become very happy and loving cats who like lots of fuss and attention!
Bertie has the loudest purr I have ever heard! Jasper likes to pretend he's the boss, but is the first to hide when anyone comes to visit! They are great pals and I am so glad they have each other – even though they love to cause havoc together!
Thank you for letting me adopt the boys! They are a bundle of fun and joy!