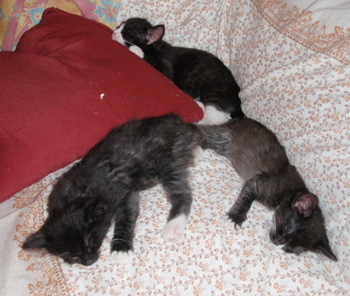 Well, the boys have settled in well and seem to be happy here! They are eating well and really active – it's great watching them play together – I'm so glad we got all three!
They like their cat sleeping house and the kids do understand that if the cats go in the house they want to be left alone.
They also like the cat tree / scratching post. They definitely have their own personalities – Star is the most likely to try and get where you don't want him to be; Jonsey is the most likely to come and sit on your lap for cuddles and Jack can be quite rough when he plays.
We love them all to bits, even hubby!