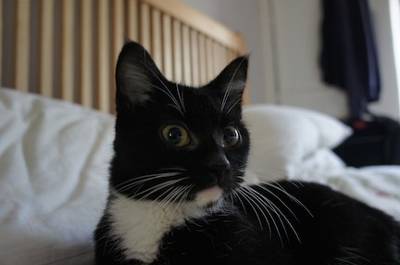 This is a photo of Evie who has now been with us for 5 weeks and I got exactly what it said on the tin.
She is the most loving pussy cat I have ever met even though she is a terror when it comes to pulling socks and pants off the clothes horse and the radiators. She is tiny in stature but makes up for it in personality.
You said she loved dogs and she most certainly does. My poor old 14 year Labrador is not sure what has hit him.
He did try to bark at her when she moved in but she has realised that if he does bark he only falls over so she completely ignores him and has recently taken to running up to him and giving him kisses.
She shares her love with all of us and has plenty left over for any one that comes to visit, quite convinced that they will feel the same way. Thank you so much for letting me have her and good luck to you all with your wonderful work.