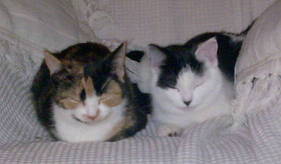 Sasha is not a total lap cat like Chloe but does love to rear up and butt your hand and if you're sat down in the chair she loves to rub around your face and neck and bite your ears!
Chloe is a total lap cat unless I am not sat down she will then sit with either Sash or Bezer. Chloe loves to wash the others and my older one adores being washed he goes all soppy.
He still occasionally bops them when they are annoying him but sometimes he only need look at them and they know. Chloe also sleeps on the bed with me most nights and bites me if I ignore her.
Thank you so much for mentioning her when I said I would have Sash because they are so lovely and well loved and cared for.
My partner dotes on them but cannot understand why they are more for me, I did mention the fact that I do feed and play with them more while he is sleeping on the sofa!!!