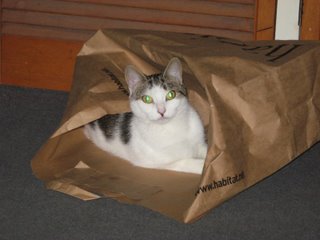 I've finally got round to getting this email off to you with a link to some of my favourite photos of Olivia (which has now been shortened to Olive!). It's just over 5 weeks since I came on that Saturday night to pick her up – and I just love having her here.
She's just gorgeous – a really lovely nature, very gentle and sociable – and wants to meet everyone who comes to visit. I had to use the Aureomycin for about 2 weeks and she never complained or struggled once.
But as you can see, her eye is completely better. She got a bit bored being kept in of course, but now she's had all her vaccinations and was allowed out for the first time on Saturday. That was a great success – see her on top of the grape vine! – at least until the local big fluffy tortoiseshell decided to stroll through the garden as usual.
There was a noisy standoff until I shooed the tortoiseshell away – and now Olive is a little more cautious about going out!
But I'm sure she'll soon make her mark on her territory, even though it's not very inviting weather. And she's so playful!
Diving in and out of the shower curtains is a good game and so is weaving in and out of the vertical blinds. But of course the favourite toys are the simple ones – the Habitat bag is regularly pounced on and she will play with a ball of wool for ages – as long as I play too, of course.
And as for me – not a hint of allergy! So it is definitely possible to lose it. Thank you so much for rescuing and looking after Olive – and then for letting me adopt her! If you're ever over this way, please ring the doorbell – we would both be delighted to see you.