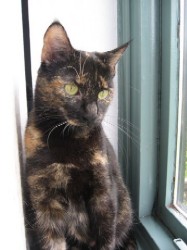 Originally she was from Wales, she then spent about two weeks at the Bristol and Wales cat rescue centre before being adopted briefly, but, within a week she was back at the centre as the lady decided she did not have time to devote to her.
Unfortunately on her return she was diagnosed with low grade flu,camplyobacter infection and she was suffering from stress so her next two weeks were spent in a foster home where her carer began nursing her back to good health.
After a succession of e-mails, a letter of recommendation from our vet, and telephone calls, a viewing was arranged to visit her, and needless to say , undeterred by the existing problems Lottie was soon on her way home with us.
As we already had six felines we had an area prepared for her so we could gradually introduce her to the rest of the family in easy stages. The first morning she popped her little head out of her igloo bed rather cautiously, but by the second morning she came to me and she allowed a tummy tickle.
The first few days we were continuing giving her medication, her eating improved, her symptoms disappeared ,she met her new friends and she was soon investigating her new home quite confidently. Now at just over a year old she is very curious, energetic and has her own set of rules when playing, and thinks she owns the sofa.
Lottie has had her vaccinations and our vet remarked on how good she is looking and has filled out nicely. We had recently suffered the sudden loss of a much loved puss and having Lottie has helped to ease the grief keeping us all busy.
She is a typical Tortie with attitude, it is like she has been here forever and she was definitely meantto be part of our family.
Many thanks for allowing us to adopt Lottie and especially a big thank you to Jo for all her care whilst she was fostering Lottie.