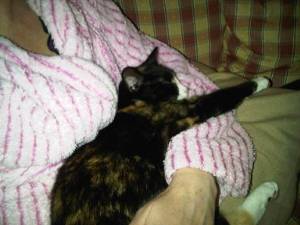 Ruby has settled in exceptionally well. She spent the first night howling her heart out in her pen and at 4am I gave up and let her out to meet her new friends.
Ruby has found a real playmate in our 18 month old cat, Betty, which is exactly what we had hoped for. They are chasing each other around the house like something possessed and have even shared a catnip mouse or two!
Ruby is not too keen on our older cat, Sacha who just looks at Ruby with sheer disdain! No love lost but no fighting which is great – just an odd growl of two from Ruby which leaves Sacha most bemused until she turns away and goes to back to sleep again. I'm sure that the relationship will improve with time.
Ruby is clearly going to be very happy with us and is already spoilt by the children. She loves nothing more that snoozing on peoples knees in front of the TV. We already love her to pieces.
Many thanks and lots of purrs.