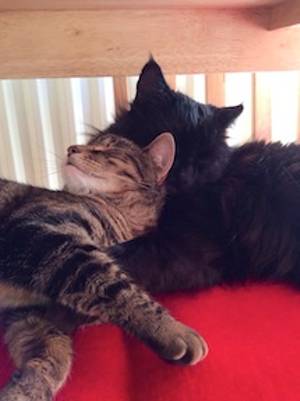 We collected Katie and Coco on 21st March, and despite being a bit nervous of new surroundings over the first few days – even running and hiding at the noise of the shower or a kitchen drawer closing, they have settled in really well.
They love their toys and have grown more confident at playing after just a week. They have learned very quickly about not going in bedrooms or onto kitchen worktops and have found themselves comfortable places to sleep – under the kitchen table by the radiator or on a blanket over the back of the sofa.
Their different personalities have really started to show – they both like chin and tummy rubs (but only when they want them) and Coco likes to climb onto your shoulder for a cuddle and ends up draping himself across your neck like a scarf. They are very sweet and sensitive, and do cuddle and groom each other, but also like to have a good scrap with each other on a daily basis – like most 4 & 5 year old children would!
We're really pleased that we've been able to give Katie and Coco a loving home, and they seem happy to have found us. Thank you to Bristol & Wales Cat Rescue for being so friendly and helpful through the process.