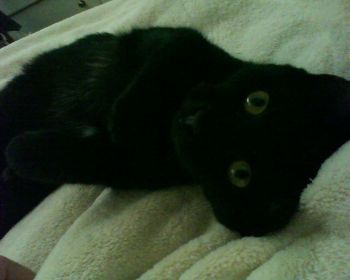 Just thought I'd let you know how well little Boo (Shadow) is fitting in. Hopefully he won't disconnect the internet whilst I type.
I nearly called on Monday as he he hadn't come out from underneath my wardrobe and didn't appear to have eaten or drunk anything but then I resorted to cat milk under the wardrobe with a little bit of food and gradually he decided to venture out. had first cuddle on Tuesday and haven't looked back. he had his second jab on Thursday and purred the whole time.
He's eating happily and begun to explore the flat, running from room to room. he was even secure enough today to cope with my three year old nephew- and was happy darting backwards and forwards in front of him and even curled up on the floor within about a foot of him. I was so proud.
I've attached a couple of photos so you can see how relaxed he is. Thanks for all your help.