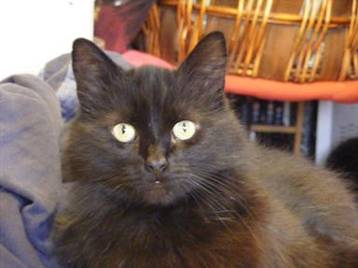 Fluffy, who we have renamed Fonzie (he's a cool cat, just like the Happy Days character!).
He's settling in really well and seems quite laid back now. He hid away for a day after you left him, but the next day he was keen to check everyone out. He didn't trust us immediately, but now you would think he had lived here all his life!
There was a bit of argy bargy to begin with as Pumpkin was setting his boundaries, but they seem to be getting on a bit better now.
Fonzie likes nothing better than eating, sleeping and eating! He loves to sit on your lap for a tickle but lets you know when he's had enough.