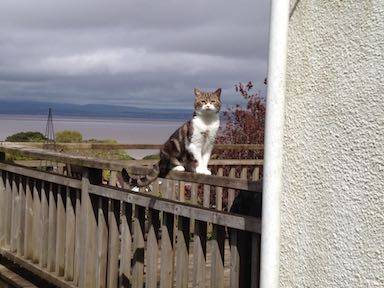 I can't believe it's only a month since Marley came to us, he's so much part of the household now and it's hard to believe that only a few weeks ago he was cowering in the corner hissing at us.
For the first few days we spent all our spare time with him in his dedicated room, talking to him, sitting and reading in there and even eating in there. Within a week he'd progressed out of his room and started to explore other areas. Within 2 weeks he had access to the whole house and now, well he rules the whole house and neighbourhood!
He is a very loving and gentle cat who loves company. He's still a kitten at heart and loves playing. He has all the toys in the world but his favourite is a few pages of newspaper! Watching his character emerge as he gained in confidence has been so rewarding and entertaining at the same time. He makes us smile.
We would like to encourage others to give the shy cats a chance – don't overlook them – once they've built their trust they are the most loving characters.
Thank you to BWCR (especially Michael) for looking after him and for giving us the opportunity to be his forever family.
Jane & Kevin