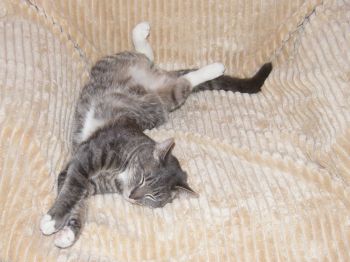 Thought you might like to see that Alfie has got his appetite back and seems to be settling in well !! Do you think he is a little too chilled?
He has had a busy day playing with Rocky you know!
He thinks he has got a new girlfriend in Bonnie our 17 year old, she is not so sure and her hissing doesn't seem to bother him (typical male)! Just one more set of jabs to go and then his amorousness will be sorted, although he is so laid back he probably won't care.
Thanks again for finding a friend for Rocky although Rocky rests even less now!