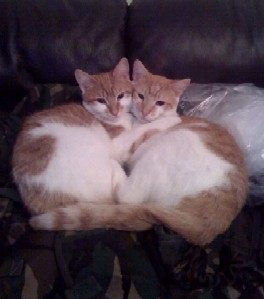 Thought it was timely to give you another update of me and Bo …… mum's attached our most recent mugshot, cute eh!
The cat flap is excellent fun despite what mum says, it makes a racket when it opens and shuts…. so we're in and out all of the time !!!
Today we discovered the other side of the garden wall , i've made a new pal… she's black and white but I don't know her name yet; give me time, I can be smooth when I need to be !! Bo hisses at her, it's obviously a girl thing.
We infiltrated the bedroom, as anticipated! When it gets dark and mum and dad go upstairs we race ahead and for a good while we wreak havoc just to the point where they both look asleep and we pounce, feet are excellent for chewing but the duvet gets in the way.
I know they love it though, they scream with delight so we just do it more and more. It gets tiring though, so we get under the duvet where it's really warm.
I often need to make a quick exit, I just need fresh air so I crawl up to the top of the bed, get out and leave the present for mum; dad always laughs but she tells me how much she loves me, she calls me a 'dirty little grub', I'm sure that's cat for 'I love you'.