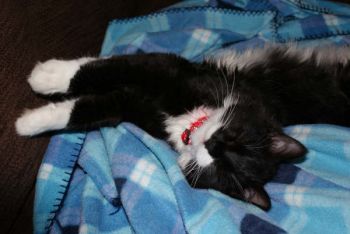 We fell in love with Giz as soon as we saw the original photo and caption on your website and knew we had to have him.
Your caption came true, now that he has put on some weight and found a loving home he is very handsome indeed.
He was all skin and bone when he first arrived, he was so weak and poorly from cat flu, he had to go to the vets three times before he was strong enough to have his jabs. He's a real fighter and came through it all.
We are so pleased we got him and have a sneaky feeling he is too. We have included some photos of him, he's just started using his catflap and been exploring everywhere, even the snow didn't put him off.
Thanks ever so much.