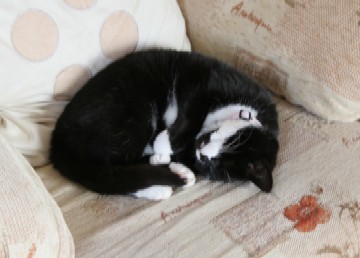 We have had Millie a few weeks now. She was allowed out on her first outing last Saturday – we couldn't allow her out before then as she had been vaccinated for cat flu and her previous owner(s) had apparently never had her vaccinated! well her previous vet had no record of them being done.
She really is a little minx – into everything! but a lovable little cat nevertheless. She has settled in very well and loves to play with her toys although she doesen't seem to know what a scratching post is!
After she has finished playing she likes to fall asleep on either mine or Linda's lap. We really can't believe she is 14 years old. Thank you once again for giving us the opportunity of adopting her, I'm sure we will have many happy days with her.