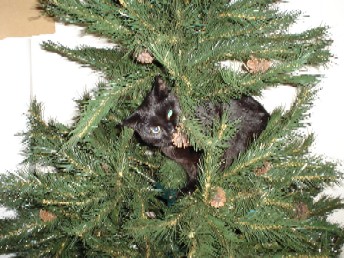 I just wanted to write to say thank you for letting me adopt Marlon. He is the most adorable little guy and has settled in very well. He has been purring almost constantly since I brought him home on Sunday.
He loves his cuddles, especially having his tummy tickled and is not too fussy about who cuddles him as long as they do! He arrived home and immediately started to explore, found Sox's food bowl and just tucked in!
Then he located the litter tray and must have spent a good 5 minutes there – you could almost hear the relief….. since then he has had great fun with his new toys (see pic)! He's such a great character and I'm so glad I found him!
Update 2
I just thought I would send you guys a quick update on the gorgeous Marlon (I've mailed Lorraine separately!).
He's doing fine and he has turned into a very cheeky boy, he's very chatty and cuddly – when he wants to be, and just sooo cute. He's grown a lot but still not grown into his big feet yet…. although there is still time.
He had a fantastic first Christmas, Santa was very generous he got 3 toy mice, some footballs and many boxes of cat treats to share with Sox. They are getting on famously now and even wash each others faces, curl up together sometimes and just generally play.
Marlon managed to resist climbing the Christmas tree until I was taking it down, but he did insist on rearranging the decorations ( I only put the shatterproof ones out this year ….just in case!) and generally moving them from room to room! He's such a sweetheart.
I'm so lucky to have him, thanks again.