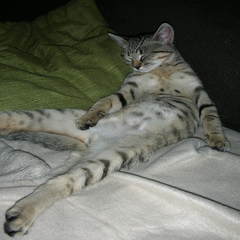 Hello, my name is Henry and when me and my two brothers first came to live with my foster family I didn't really like them very much so whenever they came into the room I would hiss at them and run and hide.
For a while I was known as 'Hissy Henry' but it can't have put them off me because when my two brothers were adopted by a nice family my fosterers decided to adopt me. As the weeks went by I became more and more friendly with them and even started to purr when I was stroked.
I was introduced slowly to my new brother and 2 sisters but they didn't like me very much at first, however, I managed to win them round and now we are one big happy family. I love my big brother so much I spend most of my time play fighting with him and can't wait till I'm neutered and big enough to go outside hunting rabbits with him!
As you can see from my photograph I'm very happy and relaxed in my new home and am making myself very comfortable.