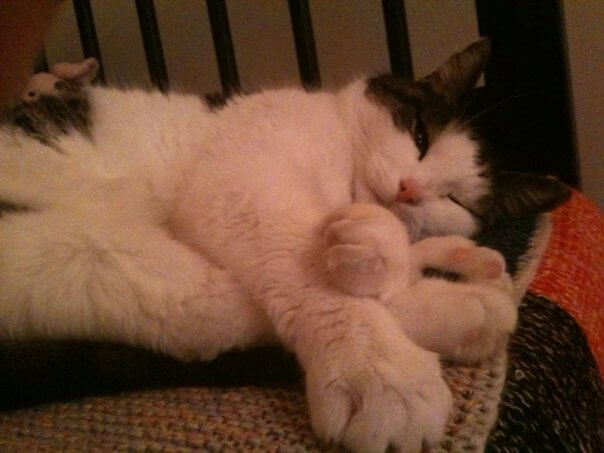 We thought we would let you know how Daughter/Patches (now Knickmops) has been doing since we adopted her in January.
We are absolutely loving our cat and cannot imagine life without her anymore. She has changed so much. Initially, she was shy and timid, would not cuddle much and not play at all. She is still shy and timid towards guests and sometimes with my husband, but certainly not with me anymore.
She comes and wakes me up in the mornings by putting her nose upon mine. If that doesn't wake me up, I'll get a tap on my nose next. She owns the whole house and races from one room to another, chasing her toys all over the place.
Her favourite toy is a red plastic ball from a children's ball pit. And she loves her cuddles! If I have a rest on the sofa, she will cuddle up with me within minutes. If I go to bed, I always have a cat warming my chest 🙂 She is very gentle and loving, but can be quite cheeky and naughty at times.
She is chipped and vaccinated now, but does not have all the "outdoor vaccinations" yet, so for now she will be able to enjoy the garden with a harness. She's certainly proven that she loves the outdoors as much as a good cuddle.