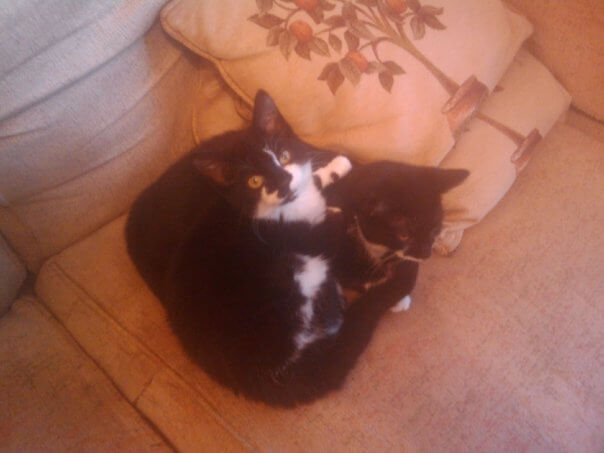 I just want to write to you and share some pictures with you of Nell and Ruby that we got from you. They have very much settled in and now have a big say on what goes on in the house.
Poor Henry, our Staffie, gets beaten up by both of them and Felix just sits and watches from a distance. They both constantly push the rules with Nell jumping up on tables and work tops then pushing things off or trying to check what is in your glass, Ruby had taken to disappearing for about an hour in the evening but she has stopped doing this now due to the cold weather.
Ruby does like sitting in the window of the bedroom balanced within the curtain watching everything that goes on outside, while Nell loves sleeping on Darryl's neck while he is watching TV – a big problem if watching something scary as regularly she will stretch her claws out and into his neck so he yelps and this makes everyone else jump.
Darryl recently appeared on Come Dine With Me and all of the pets (our children) were stars – the show is very much a set up so please note we do change the cat litter trays regularly.
As you may recall they both came to us with feline calici virus, Nell being affected the worst. Luckily they both have stabilised but unfortunately Nell had to have all of her back teeth out to deal with the infections but she is doing well now, and her glands are back to normal size now & her breath is much better, unlike before when it was really bad.
Anyway that gives you a bit of an update on Ruby and Nell, but the most important thing that both Darryl and I would like to say is thank you very much for allowing us to have Ruby and Nell in our lives. With thanks