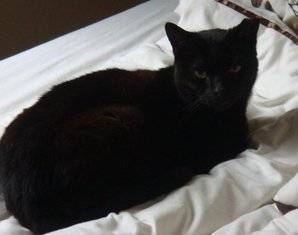 I thought I should send an update email about Lulu, the little old black cat we got from Eileen back in November. Well, three months on and we couldn't be happier.
Lulu spent the first few days mostly hiding in the bookcase (she does like her books / DVDs!), but quickly came out of her shell the moment she realised that we are the provider of the biscuits, meat and snacks!
Her favourite activities seem to include head butting us (usually she gets in a double head butt as she runs across the top of the sofa and gets both of us as we're watching TV), jumping on us in the middle of the night, sleeping and eating biscuits!
She is a brilliant little cat who constantly entertains us – either by suddenly behaving like a kitten and having a funny five minutes, or when she decides she does quite like having a little fuss and won't leave us alone!
She has yet to venture outside – she seems to be scared of the sound of the patio door opening – however she is showing an interest, sometimes stalking things she sees out in the garden, even though she can't get to them (so we shall be getting a cat flap for her sometime soon).
She is becoming a well adjusted cat and we cannot thank you all enough – especially to Eileen (who let us borrow her cat carrier) and Val (who helped us so much with the selection of Lulu).