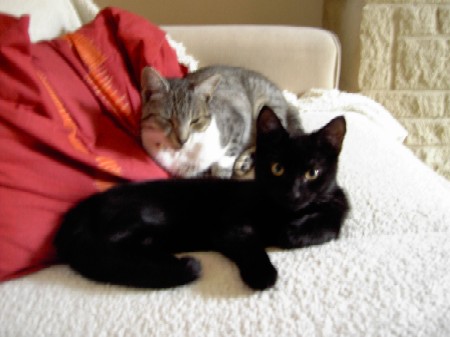 I am just emailing to update you on Coal, who we have now renamed Basil. When we picked him up in September and got him home we were a little worried as our other cat wasn't so keen on a newbie in his house so was hissing quite a bit.
Poor Basil looked a bit bewildered and just came up to me for cuddles and food. Then, one afternoon when i got home from work, i found them both in the cat bed together……….love at last!.
They have the odd disagreement but like to play and like cleaning each others ears! He is so sweet and has the cutest little meow.
He had his jabs not long after we got him, which made him feel a bit poorly so he stayed in his little cat bed for best part of two days. After this he has been fine, running around chasing bits of rolled up sweet wrappers or his own tail.
I am so glad that we got him as he is such a character and he deserves a family to love him and give him lots of cuddles! I have attached a picture of little Basil enjoying a nap with our other cat.