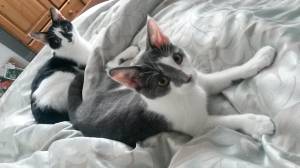 We are so happy to have been matched with these lovely kittens. Milo and Kiki have totally settled in to their new home.
They were very shy at first but have come out of their shells to be very sociable and cuddly cats.
The bed has quickly become their favourite spot! They love to climb and explore and their favourite toy is the laser pointer.