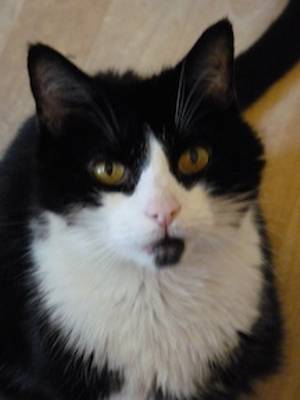 I thought you'd like another update on Felix, now complete with pics!
He had a vets appointment yesterday and they are very pleased with him. His weight is down to 5.5kg and his tummy is a lot less swollen. He wouldn't let the vet examine him (he growls and bushes out his fur lol) but he has charmed her anyway.
Now he's lost weight he is better able to clean himself so his fur is SHINING and they are hoping to be able to reduce his meds soon. He is very active, catching flies and spiders but is still not happy about being on a diet!
We can't thank you enough for letting us have him; it was Merlin's birthday yesterday but what could have been a sad day became a joyful one as we tried to make Felix sit still for long enough to have his photo taken! He has brought us so much happiness we cannot imagine our lives without him.