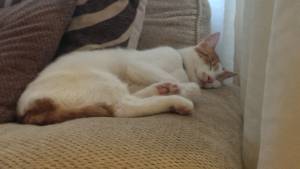 We adopted Loki from you a little while ago, I thought I would send you an update.
After a shaky start (he escaped, we enlisted the entire neighbourhood and finally got him back!) he is truly a member of our family. He has fit in very well, he gives us all lots of attention, and likes to sleep on our daughters bed.
He's been in for 3 weeks on Thursday, so we are allowing him access to the garden on the weekend. We really feel we have found the perfect cat for our family, and really believe he feels the same. We all love him very much!
Thank you for letting us adopt him.
Johanne, Chris and Violet Verrall