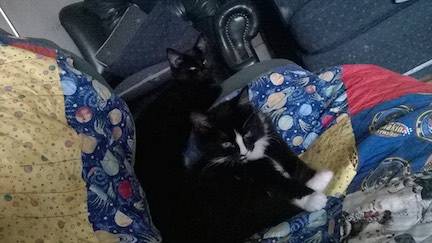 We received two kittens from your care at the beginning of September. They had been abandoned in a cardboard box at the vet hospital in Bradley Stoke, part of a little of six. We chose a jet black one and a black and white one, both little girls.
Just to let you know they are both doing well. We have registered them with Rowe Vets in Wotton-under-Edge and they have had their vaccinations and have both been spayed. They've also been chipped.
We have called them Klinka and Smokie. Klinka is black and is an absolute character, she likes to jump on our shoulders when we are least expecting it and is into everything. Smokie is quite maternal and very affectionate, she loves to lie on her back so her tummy can be stroked.
They are lovely and much loved members of the family and we'd like to thank you for your assistance in connecting us with them and for your care for them before they came to us.
Best wishes.