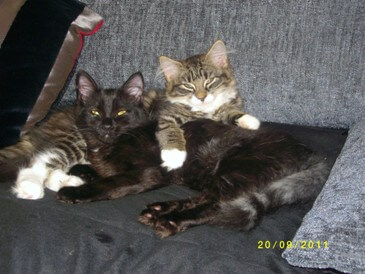 We felt we had to keep Boomer's name because it suits him; he bombs about, is into everything and loves being smoothed and mollycoddled.
Fidget has now become Magic because I am sure she is turning silver! It really does look like her tail is getting lighter and her coat has a lot of silver flecks in it.
When we got them home, Boomer came straight out of the cage and began finding his way around almost immediately.
Magic was coaxed out of her cage with food and a bit of encouragement from Boomer. We have had a lot of sleepless nights in the last week as they liven up at about 2.00am and play like demented goblins, but we know they will grow out of it soon.
They are both becoming used to the noises. Boomer is mental, he loves playing and exploring. Magic is still timid but every day she is becoming more confident.
She loves to sit on my lap and have some individual attention, then Boomer sees what's going on and he wants to join in too. Several times I have been stuck on the settee with one of them on each leg, on their backs having their tummies rubbed!
Thank you so much for giving us the opportunity to adopt them, they are wonderful. We are so happy we found your charity and you can be assured we will be keeping in touch with you.