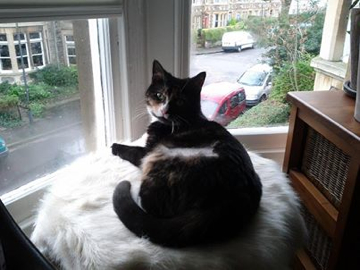 Hi! I'm Skittle (my foster name was Rosie) and I just wanted to say thank you – Bristol and Wales Cat Rescue – for taking care of me and finding me a wonderful new home.
My human minions worship me and spoil me thoroughly. I get snuggled constantly; I have cat trees, scratching posts, dozens of catnip mice, a step-brother cat to follow around, my own chair at the breakfast table, my own sofa, 4 human feet to sleep on, a bowl of grass and lots of proper food.
I wasn't too keen on the microchip jab, but I'm told that there's a garden I'll get to explore if it ever stops raining.
I am a happy kitten. Thank you.