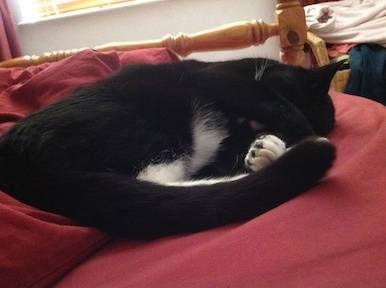 I just wanted to say a massive thank you for Stanley whom I adopted February 2012. I can't believe I've had him two years – the time has flown.
He's now 10 years old, and the most loyal and loving companion I could wish for. He's very chatty and affectionate, loves his food and sleeping on my bed – hence the photo – and likes to be in whatever room I'm in.
It's a far cry from the shy boy who hid behind the sofa when I went to see him at his foster careers. We are very happy together. He can be a bit shy around my friends and family but that soon disappears when he gets to know them.
Thank you again for my wonderful little mate.