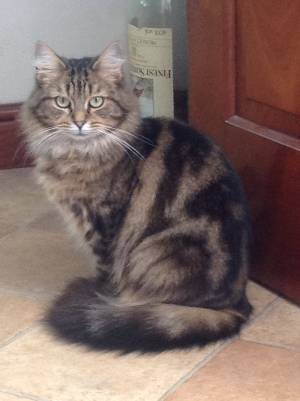 Minnie (formerly Millie) came to live with my husband and I in February 2015. She has certainly come a long way since then!
She is a very timid cat and when she first arrived she hid under her bed. She was as quiet as a mouse, we only knew she was there because her food disappeared each night! We were patient with her and after a few weeks she started coming out to see us when we brought her food.
After several weeks we opened the door to her pen to allow her to investigate the utility room – our 'bonding room.' If we entered the room she would hide but she seemed to be enjoying having the extra space to move around in.
Six months on Minnie is quite happy exploring all of downstairs and loves to sit on the windowsills and see what's going on outside. She loves fuss and to be brushed but is sometimes still wary and has a few places she likes to go by herself (particularly under the dining table).
She is not keen on visitors but will come over for a fuss if people are patient. She likes to 'help' me in the kitchen and sometimes jumps up on the worktop to see what's for dinner!
Minnie doesn't go outside currently but she is very interested in the cat flap (which is locked) so we'd like to build her an enclosed outdoor run and hope one day she'll feel brave enough to explore the garden.
We're pleased we've built Minnie's confidence and are looking forward to gaining her trust even more as time goes by. We'd like to encourage others thinking of adopting, or who have adopted, a nervous cat to be patient – there was a time when we thought Minnie would never come out of her shell but she's growing in confidence every day.
Thank you Mike and all at Bristol and Wales Cat Rescue for your support.
Becky and Rob