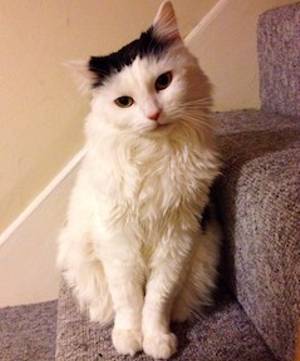 It's been over a year now since I adopted Bini (previously Mia) so thought I'd give you an update!
She's still incredibly timid with most people and disappears if there's a knock on the door or she hear's a strangers voice, but she's a lot better with me now. In fact, she follows me around all over the place – whichever room I'm in she's in and if I go out she runs to meet me when I get back as you'd expect a dog to do! I still don't think she'll ever be a lap cat, mind, although we're working on that!
She also loves being made a fuss of and our favourite time of day is when I go up to bed – she follows me upstairs into my bedroom, then into the bathroom while I brush my teeth, then over to the place I keep my pyjamas and as soon as I've got them on she jumps onto my bed waiting for me to get under the covers, then she throws herself on her back and gets a 15 minute brushing/fussing over which ends when I turn the light off!
She's quite happy being picked up now too (after lots of exposure therapy, i.e. my doing so once a day till she was ok with it) so going to the vets isn't quite as traumatic as it used to be!
I started letting her out into the garden at the start of summer too which she loves – but again mainly when I'm out there, although soon after I let her out with me I found out she'd been happily letting herself out through the bathroom window on her own accord anyway – my next door neighbour had been watching her doing so!
Anyway, we're perfectly compatible and Im pretty sure we've increased the quality of each others lives no end, so thanks very much for all the work you do there – we're both very grateful for everything!