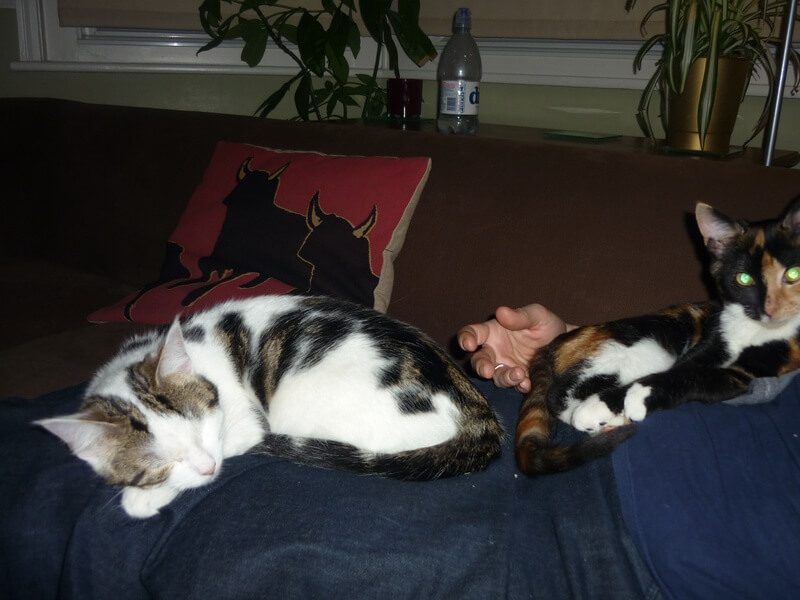 I wanted to thank you for letting us meet all the cats and to take Gypsy and Lottie (now Lola) home with us. They are wonderful girls, full of mischief and cuddles and a very welcome addition to our family. Both love cuddles, catnip, chasing and roasts.
Gypsy loves every bed in the house, children's story time (she sits on the bed every night for storytime) and water and will happily watch the shower, bath or just a dripping tap. Our washing machine has a cupboard door we keep closed or I think she would equally happily watch a washing cycle for 2 hours.
Lola of the Loud Purr has a very loud purr and loves sleeping at an angle against people and playing with balls and pens.
They have both adjusted very well to life in their new home and will be able to venture out in a fortnight when they have had final jabs and their operation so I hope they will be able to run off some of their energy outside with maybe a little less chasing of feet at night while we try to sleep.
I'm not quite sure who is the boss, and neither are they given the amount of pouncing that goes on, but I'm pretty sure it's not me. Attached is a photo showing a quiet moment.
They are both growing quickly so I will send you another when they are bigger.