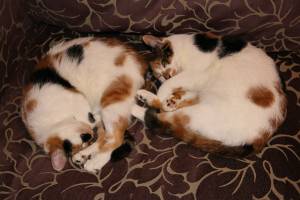 Just a line to let you know that Lily and Lolly have settle in really well, they are now used to living here and have agreed to make this their forever home.
Lily is very chilled, a gentle girl, who's quite happy to follow, Lolly is brave and curious to investigate anything new and is always first to check things out.
I now have two companions, who bring such joy and fun where ever I'm at home.
I've attached a few photos which I hope shows how they have settled, I hope they are not too large for you to open.
My thanks to you all for the brilliant work you do, and especially to Julie who gave Lily and Lolly such a lovely foster home.
Kind regards
Faye