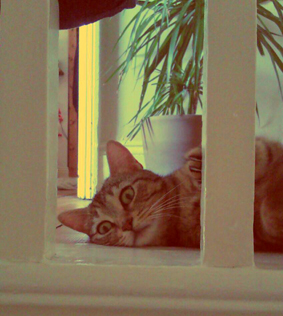 She was very sceptical at first, spent all weekend trying to coax her from under the TV/sofa/bed… but has become much more confident in the past couple of days – and has even coped with a couple of visitors!!
She loves sitting at the top of the stairs where she can spy on everything and she also spends a fair amount of time looking out the back door… so I think she is going to enjoy roaming around outdoors!
She also likes to come and stick her face in mine in the morning to say hello – I'm not normally a morning person but she just makes me smile!!
Haven't managed to get a non-nutty pic of her yet (hence the name!!) but will persevere as she is so sweet and adorable – we like her very much!!
Thanks again, so pleased we could help out!