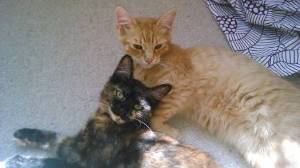 Oslo and Kowloon arrived in May, 2014, and they were tiny bundles of fluff that stole our hearts as soon as we saw them. B&W Cat Rescue had looked after them after their mother had rejected them and they are two of the friendliest kittens/cats/cattens that we could ever wish for.
Oslo (the ginger one) is a brute and not as clever as his sister, Kowloon. Kowloon is tiny but so smart. They are warm and affectionate though the 5.30am wake up calls are not so nice!!
We are very grateful to Sarah and Becky at B&W for spending so much time with our beautiful kittens. They were confident, friendly and litter tray trained so they settled in to their new home very quickly. We couldn't be without them now.