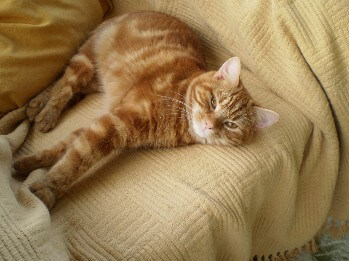 Remember me (Ginge) my name is now Rufus, and I was rescued from off the streets of Bristol, I now live in the Cotswolds with a huge garden to play in, I came to live with my new owners in December, I was quite naughty when I arrived, by scratching the newly decorated kitchen wall paper, and scratching and nipping my owners.
I now go outside but not too far away, I use the cat flap to let myself out but as the door is left open for me I always come back in that way I love sleeping in my snuggly cat bed, but prefer to sleep on the big bed where I can snuggle under the duvet.
Di, my new owner, has taught me to eat my food in the dish on the floor, not on the counter top; as I am the only cat I am fed three times a day with a mixture of wet and dry food, and a tit bit called Temptations as a treat when I have been good I am growing into a big cat hence the photograph, I love living with my new owners and thank you for rescuing me and finding me such a lovely place for me to live and rule.