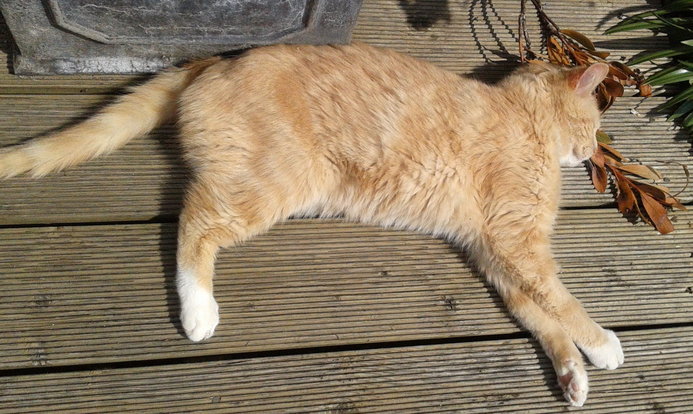 I just wanted to give you an update on how Jimmy is doing since I re-homed him in March 2013. I changed his name after I got him home and realised that he didn't respond to Jimmy. I decided on Jonny after Jonny Peacock since he was also a gorgeous strawberry blonde who hasn't let missing a leg stop him from doing anything!
He seems to like the name too and responds to it and me, and likes to follow me around when I'm home like my little shadow – that's when he is home and not off playing with his new friends and generally being adored by all the neighbours. He already knows how to negotiate the wall and one neighbour's cat flap, and had no problem finding his way into her bedroom and onto her bed as her 3 cats all watched at the audacity of the newcomer.
I've made a couple of changes to make it easier for him to get around, like arranging a "stepping stone" to a dining room chair so he doesn't have to have a bed on the floor, and moving the old decking plank to a horizontal position for him to use as a scratching post. Since he no longer tries to escape when I open the front door,
I'd say he's feeling pretty settled in his new home. Thank you for allowing me to be his new family.