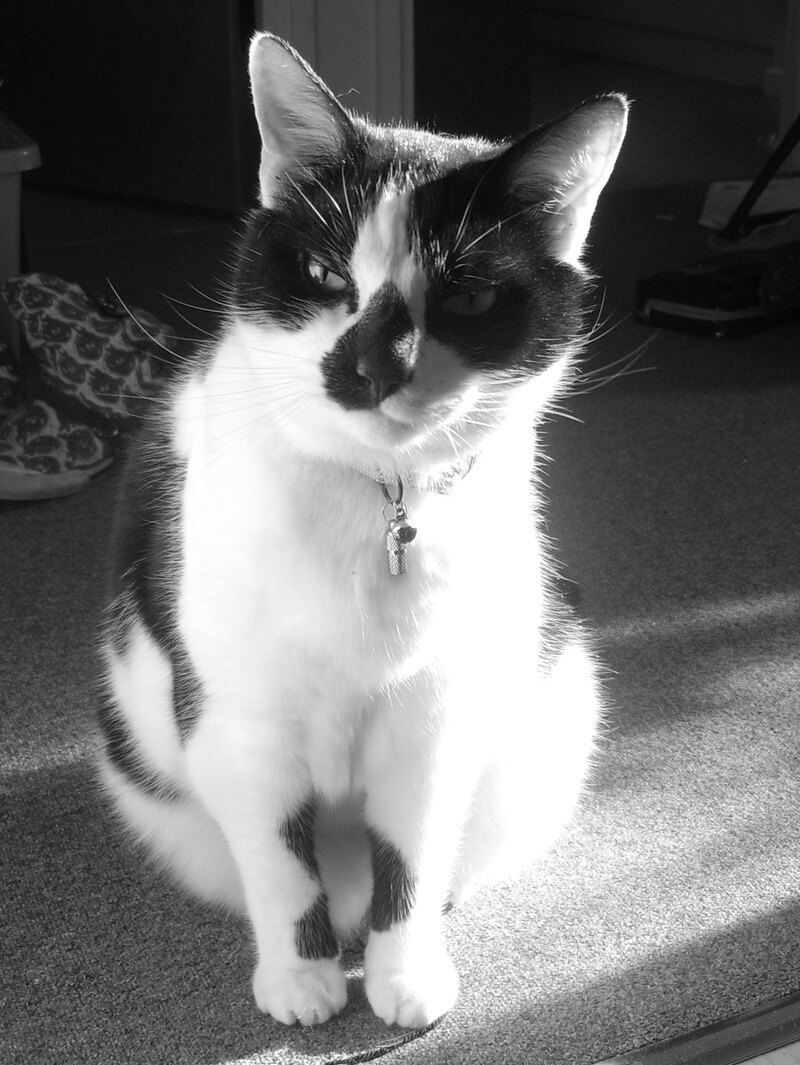 We just thought we would let you know how Milo is getting on with us since we collected him in Dec. We were surprised at how soon he seemed to settle in and make himself at home, as soon as we got back from picking him up he was right at home- sprawled out across the living room, sleeping in the bed, waking us up for his breakfast and having a good look out of the catflap (though it was still locked).
And since then he's just made himself more at home- he manages to take up at least one third of the bed most nights and can be quite the little duvet hog! He is like a second alarm clock in the morning, when Milo is ready for breakfast we all know about it…
We have a tree right outside the living room window and he loves to sit and watch the birds come and go and often tells us what they are upto, with a squawky "meaow". The only toys he's interested in are ones with bits of long string that he can chase, but when he gets one he loves it and we are convinced he runs and slides across the floor on the rug on purpose!
He has pretty much made the descision to be a house cat by himself 90% of the time, but does occasionally go out-though I'm sure he waits for someone to come home before he ventures out-somedays he is in exactly the same spot when I come home as when I go out, don't think he's moved all day-lazy bones!
When he does go out he doesn't go far and comes running in though the cat flap at such a speed- he has already managed to snap one door of the hinge, so we had to find a replacement.
As for his "food issues", he is on a strict diet (when we took him to the vet he weighed 7.5kg!! Though they did agree he's just big- visitors have commented that he's not a cat but a dog!)
He can beg for food but hasn't shown much interest in food other than cat food which is good, as after reading the letter that came with him about him eating Jaffa Cakes and frozen bread we were a little worried. As for his being sick, it has gotten less and less frequent so that's good.
Over all Milo is a very happy pusscat and we are very happy pusscat owners. Thank you so much for giving us the chance to adopt him and give him a second (or third) chance.
I've attched a couple of photos I though you might like to see him in his new digs.